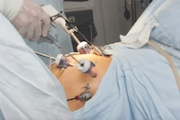 Self-harm risk after bariatric surgery
By Bianca Nogrady
Patients who undergo bariatric surgery may be at an increased risk of self-harm in the three years after the procedure, new research suggests.
A Canadian cohort study of 8815 patients treated with bariatric surgery (mainly gastric bypass), who were followed for three years before and three years after surgery, showed the incidence of self-harm emergencies increased 54% after surgery compared with before.
Overall, the incidence of self-harm was more than twofold greater in this group before surgery and threefold greater after surgery, compared with the general population, according to the study findings published in JAMA Surgery.
Patients aged over 35 years, those with lower incomes, and those living in rural areas were particularly at risk of self-harm, but 93% of cases of self-harm occurred in patients who had been diagnosed with a mental health disorder in the five years before surgery.
'Mental health problems are prevalent in morbidly obese patients and those undergoing bariatric surgery [and] these problems, including current substance misuse, major depression, and eating disorders, an compromise the surgical outcomes and success,' the authors wrote.
'Because self-harm emergencies are a strong predictor of suicide, these findings highlight the importance of screening for self-harm behaviors in patients undergoing bariatric surgery,' they added.
Commenting on the study, obesity expert Professor Ian Caterson said patients undergoing bariatric surgery were a vulnerable population.
'It's an interesting observation and I'm sure there will be many other associations with bariatric surgery, given the complexity of issues with obesity,' said Professor Caterson, Head of the Boden Institute of Obesity, Nutrition, Exercise & Eating Disorders at The University of Sydney.
The debate about whether weight loss surgery patients were more at risk of self-harm and mental illness was complicated by a lack of comprehensive observational data, Professor Caterson told Medicine Today.
Professor Caterson said moves are being made in Australia towards setting up a national register for bariatric surgery recipients, which will aim to capture as much data as possible on the 16,000 or so bariatric surgeries performed each year.
'My gut feeling is that we won't really understand what happens post-surgery and any specific management issues until we've got enough data on enough people,' he said.
JAMA Surgery 2015; doi: 10.1001/jamasurg.2015.3414.
Picture credit: © Herjua/iStockphoto.