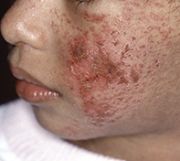 © SM/SPL. MODEL USED FOR ILLUSTRATIVE PURPOSES ONLY
Severe atopic dermatitis linked with depressive symptoms across childhood
By Nicole MacKee
Children with severe atopic dermatitis are at twice the risk developing depressive symptoms as children without the condi­tion, researchers have reported in JAMA Dermatology.
In a UK cohort study, resear­chers followed more than 11,000 participants for almost 20 years. They found that severe atopic dermatitis was associated with symptoms of depression (adjusted odds ratio [AOR], 2.38) and internalising symptoms (AOR,1.90). Internalising symptoms were defined as 'behaviours directed inward that are indicative of a child's emotional and psychological states, including depressive behaviour, anxious behaviour, and somatic complaints'.
The researchers found that although mild­-to­-moderate atopic dermatitis was not associated with depressive symptoms, it was associated with internalising behaviour from as young as 4 years old (29% to 84% increased risk across childhood).
Professor Pablo Fernandez­-Peñas, Professor of Dermatology at The University of Sydney, said atopic dermatitis, or atopic eczema, had a significant impact on patients' quality of life and was disruptive to daily activities.
'This is not only related to the appearance of the skin but also, and probably more importantly, to the itch that patients feel and the consequently scratch­ing behaviour,' Professor Fernandez­-Peñas said.
'It is well known that patients with skin conditions tend to hide their disease and the feelings that accompany these conditions,' he said, adding that atopic eczema had also been associated with other mental health issues such as ADHD. 'It not surprising that kids show internalising behaviours across the spectrum of atopic eczema severity.'
Although the researchers said sleep quality partly mediated the links shown in the study, this was not explained by sleep duration and more research was needed. However, Professor Fernandez­-Peñas said it was important to consider the impact of itch associated with atopic eczema on young patients' sleep.
'Sleep is one of the main daily activities disrupted by itch, and it is well known the impact that sleep deprivation has in humans regardless of the cause,' he said.
Professor Fernandez­-Peñas said it was important that clinicians considered atopic eczema in children as more than 'only skin disease'.
'Patients with skin disease at all ages feel marginalised and misunderstood. Skin conditions, eczema in particular, have long­ term consequences as this study and others have shown,' adding that it was important to manage and treat this condition from an early age.
JAMA Dermatol 2021; doi:10.1001/jamadermatol.2021.2657.