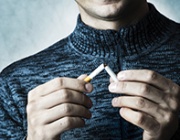 Smoking cessation medicines safe in psychiatrically stable smokers, study finds
By Jane Lewis
The smoking cessation medica­tions varenicline and bupropion do not appear to increase the incidence of serious neuro­psychiatric side effects, and can be used safely by psychiatrically stable smokers, a study published in The Lancet has concluded.
Requested by the US Food and Drug Administration, the industry­ funded study compared the relative neuro­psychiatric safety risk and efficacy of the two medications with nicotine patch and placebo in smokers with and without psychiatric disorders.
Varenicline was found to be the most effective of the medications, although bupropion and nicotine patch were also shown to be effective compared with placebo.
'This large randomised trial confirms that varenicline can be used in people with a wide range of psychiatric disorders, including schizophrenia,' Professor Nick Zwar, Professor of General Practice, University of New South Wales, told Medicine Today. 'The study is likely to lead to a change in both national and international clinical practice guidelines; for example, removing the need to monitor patients taking vareni­cline for neuropsychiatric adverse events more intensively than with other medicines.'
'It is important to note that the people with mental illnesses included in the study were considered clinically stable, and that people with alcohol and other drug use disorders were excluded,' he added.
Participants in the research – all adults who smoked more than 10 cigarettes a day and were motivated to stop smoking – included 4116 people with a history of past or current stable psychiatric condition (mood, anxiety, psychotic, or borderline personality disorder), and 4028 who did not have a psychiatric condition.
Among smokers without a psychiatric disorder, there was no significant increase in the incidence of adverse neuro­psychiatric events across all the treatment groups (1.3% varenicline, 2.2% bupropion, 2.5% nicotine patch, 2.4% placebo). In smokers with a psychiatric disorder, rates of adverse neuropsychiatric events were similar among the groups (6.5% varenicline, 6.7% bupropion, 5.2% nicotine patch, 4.9% placebo). 
In terms of efficacy, participants taking varenicline achieved higher abstinence rates than those on bupropion, nicotine patch, or placebo (odds ratios [OR] 1.75, 1.68, and 3.61, respectively), whereas those on bupropion and nicotine patch achieved higher abstinence rates than those on placebo (OR, 2.07 and 2.15, respectively). Although abstinence rates in the psychiatric cohort were lower overall than in the other cohort, efficacy in terms of odds ratios was similar for both cohorts. 
The author of an online comment published with the study said its findings, together with those of previous studies, suggest that 'clinicians should be comfortable prescribing the smoking cessation medication they feel would be most effective for their patient and should not worry about a specific medication increasing the risk of neuropsychiatric side­ effects.'
Lancet 2016; http://dx.doi. org/10.1016/S0140-6736(16)30272-0.
http://dx.doi.org/10.1016/S0140-6736(16)30294-X.
Picture credit: © Katalinks/Depositphotos