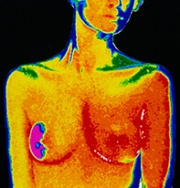 Some age-related symptoms misattributed to tamoxifen preventive therapy, finds study
By Jane Lewis
Nonmedication-related symptoms are being attributed to tamoxifen breast cancer preventive therapy and adversely affecting treatment adherence, according to a recent study published in the Journal of Clinical Oncology.
'Our data have implications for communicating with prospective users of preventive therapy, particularly with regard to encouraging accurate symptom expectations and correcting potential misattributions,' the study's authors concluded.
'This is high quality data and it's important that we look at it,' Professor Bruce Mann, Director of the Breast Tumour Stream, Victorian Comprehensive Cancer Centre, told Medicine Today. However, participant bias needs to be taken into account when considering how attributable the results are to the general population, he added.
The study was based on data from 3823 UK women, aged 35 to 70 years, participating in the International Breast Intervention Study (IBIS-I), who had been randomised to receive placebo or tamoxifen (20 mg/day) for five years. Overall, 69.7% of women were adherent for at least 4.5 years (74% taking placebo; 65.2% tamoxifen), with dropout rates highest in the first 12 to 18 months.
Women reporting nausea or vomiting were less likely to be adherent in both the tamoxifen and placebo arms (odds ratio [OR], 0.57 and 0.58, respectively). Headaches were associated with adherence in the placebo arm only (OR, 0.62), whereas gynaecological symptoms such as irregular bleeding, vaginal dryness and discharge were significant in the tamoxifen arm only (OR, 0.77). Hot flushes were not associated with adherence in either group. No significant difference between the treatment arms was found in effect sizes for each symptom on adherence.
According to the authors, this lack of difference suggests that 'women are attributing nonmedication-related bodily changes to preventive therapy,' They concluded that 'Intervention strategies are needed to promote adherence, as well as to effectively communicate the harms and benefits of preventive therapy.'
'My experience is that a substantial proportion of women who take tamoxifen to reduce their risk of breast cancer choose to stop, because they're not prepared to tolerate a significant impact on their quality of life,' commented Professor Mann. However, not all symptoms are caused by medications, and medications can be a 'convenient explanation,' he said.
'GPs should be aware that tamoxifen is available and subsidised on the PBS for women at risk of breast cancer, and that for many women, it is well tolerated and a useful part of breast cancer risk management,' he advised.
J Clin Oncol 2017; doi:10.1200/JCO.2016.71.7439.
Picture credit: © GJLP/CNRI/SPL