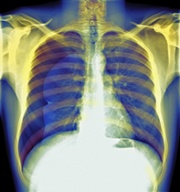 © DU CANE MEDICAL IMAGING LTD/SPL
Spontaneous pneumothorax: conservative approach is safe and effective
By Rebecca Jenkins
Conservative management is an acceptable alternative to initial routine drainage for uncomplicated primary spon­taneous pneumothorax, an Australian and New Zealand multicentre trial suggests.
Researchers randomised 316 patients aged 14 to 50 years of age with a first­known, uni­ lateral, moderate­to­large primary spontaneous pneumo­thorax to either conservative management, where patients were observed for a minimum of four hours before having a repeat chest radiograph, or interventional treatment, where a chest tube was inserted followed by a sequence of chest radiographs and observation.
They found modest evidence that conservative management was a noninferior option to intervention based on radio­ graphic resolution of the pneumothorax at eight weeks, but cautioned the finding was 'statistically fragile' due to missing patient data.
'Conservative management spared 85% of the patients from an invasive intervention and resulted in fewer hospitalization days, a lower likelihood of prolonged chest­tube drainage, less need for surgery, and fewer adverse events than interven­ tional management,' researchers led by Dr Simon Brown of the Centre for Clinical Research in Emergency Medicine at Royal Perth Hospital wrote in The New England Journal of Medicine.
'The percentage of patients with early pneumothorax recur­ rence was also lower in the con­ servative­management group.'
Welcoming the study, Pro­fessor Anne­-Maree Kelly, senior emergency physician and academic at the Joseph Epstein Centre for Emergency Medicine Research at Melbourne's Western Health, said the find­ings should change practice in Australia, providing clear evidence that the conservative approach was safe, effective and good for patients and the health system.
'It is important to not be distracted by the statistical "fragility" that the authors des­cribe,' she told Medicine Today.
'The sensitivity analyses for the primary outcome (eight­ week resolution) were very con­servative with all missing data imputed as treatment failure. While this is a very "safe" approach it is very unlikely to be "true". It would be a pity if this distracted from the simple message the data tell us – that conservative management is safe.'
Professor Kelly, who has long held an interest in spontaneous pneumothorax management, congratulated the research team, noting 'this type of study is hard to design well, hard to get funded and hard to keep up patient recruitment'.
The challenge now was to translate this evidence into practice, she added, an issue compounded by the number of specialist groups who were stakeholders – emergency phy­sicians, physicians (including respiratory physicians) and thoracic surgeons.
'There is variation between hospitals regarding which speciality takes primary responsibility for management of spontaneous pneumothorax, which again will complicate translation into practice,' she said.
N Engl J Med 2020; 382: 405-415.