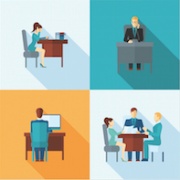 Standing proves to be a step up on sitting
By Jane Lewis
Strategies to reduce sitting time and encourage more standing, stepping or both, may have significant cardiometabolic health benefits, suggests an Australian study published in the European Heart Journal.
'There is now considerable evidence that high levels of sitting have a detrimental impact on our health, and guidelines are in place recommending we minimise the amount of time spent sitting,' lead author Dr Genevieve Healy, research fellow in the School of Public Health, The University of Queensland in Brisbane, told Medicine Today. 'What we now need to know is: if not sitting, then what should people be doing for their cardiometabolic health?'
The study, which set out to examine the potential impacts of re-allocating sitting time to time spent standing or stepping, involved 698 participants from the 2011/12 Australian Diabetes, Obesity, and Lifestyle Study (aged 36 to 80 years) who wore posture-based activPAL3 monitors. Statistical methods of isotemporal substitution analysis were applied to examine associations between time spent sitting, standing and stepping with various measures of adiposity, glucose metabolism and lipid metabolism.
Analysis showed that replacing sitting time with standing time was significantly associated with improved glucose and lipid metabolism (2% lower fasting plasma glucose, 11% lower triglycerides, 6% lower total/HDL-cholesterol ratio and 0.06 mmol/L higher HDL-cholesterol per 2 hours/day).
By comparison, replacing sitting time with stepping time was significantly associated with improved adiposity indicators (11% lower BMI and 7.5 cm lower waist circumference), as well as improved glucose and lipid metabolism (11% lower 2-hour plasma glucose, 14% lower triglycerides, and 0.10 mmol/L higher HDL-cholesterol per 2 hours/day). Replacing standing time with stepping time was associated with 10% lower BMI, 7 cm lower waist circumference and 11% lower 2-h plasma glucose.
'Our findings were surprisingly consistent with the underlying mechanisms involved – namely, that muscle contractions used for standing are key for glucose and lipid metabolism, while energy expenditure may be needed to improve adiposity indicators,' commented Dr Healy.
Health practitioners should consider measuring and tracking both the sitting and activity levels of their patients, and where appropriate, explore the potential benefits of replacing some sitting time with time spent standing and stepping, she suggested. 'Our main message is: stand up, sit less, move more, more often.' An accompanying editorial claimed the results of the study had 'major public health implications' and called for greater emphasis to be placed on increasing 'non-exercise activity thermogenesis' in daily life, rather than on 'achieving goals of vigorous exercise.'
Eur Heart J 2015; pii: ehv308.
Eur Heart J 2015; doi: 10.1093/eurheartj/ehv356.
Picture credit: © Macrovector/Dollar Photo Club.