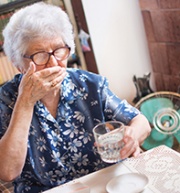 © BOJAN89/ISTOCKPHOTO.COM MODEL USED FOR ILLUSTRATIVE PURPOSES ONLY
Statin benefit for secondary prevention clear in older people
By Bianca Nogrady
The evidence in favour of statins for secondary prevention in people over 75 years is clear, but less so for primary preven­tion, a new analysis has found.
A meta-analysis, published in The Lancet, examined data from 28 randomised trials of statin therapy in 186,854 indivi­duals, including 14,483 aged over 75 years.
Overall, statin therapy was associated with a 21% reduction in the relative risk of major vascular events per 1 mmol/L reduction in LDL-­cholesterol. With increasing age, the relative benefits appeared to diminish slightly, but this trend was not statistically significant.
The study also found that the risk reductions in major vascular events with statin therapy appeared to be smaller in older than in younger individuals with no history of vascular disease.
In a subanalysis that excluded four trials in people with heart failure or renal dialysis (among whom statin therapy has not been shown to be effective), there was a similar overall reduction in the risk of vascular events with statin therapy, regardless of age.
Statin therapy was also associated with an overall 24% reduction in major coronary events (nonfatal myocardial infarction or coronary death) per 1 mmol/L reduction in LDL­ cholesterol, with a significant trend towards a diminished reduction with older age.
However, the reductions in the risk of stroke or coronary revascularisation with statin therapy remained similar regardless of age.
Coauthor Dr Jordan Fulcher, Cardiologist and Research Fellow at the NHMRC Clinical Trials Centre, said the major message of the study was that the effectiveness of statins appeared to be consistent regardless of age.
'The more you can lower your cholesterol, the greater the cardiovascular benefit, and in most situations age shouldn't be a major consideration when prescribing statins,' he said.
'In fact, because people have a higher risk of heart disease with increasing age, older people benefit more from statins than younger people.'
However, he said questions still remained about their effectiveness for primary prevention among individuals aged over 75 years.
'The overall effectiveness of prescribing a statin to someone in this age group who hasn't had a heart attack or stroke is not clear, partly because some such people may have other serious health conditions and die from other causes,' Dr Fulcher told Medicine Today.
He also pointed out there were not enough people aged over 75 years without cardiovascular disease to power the meta­ analysis to detect a significant benefit in this age group alone. The study also found no adverse effects of statins on the risk of cancer, cancer death or nonvascular death, even in the older age group.
Lancet 2019; 393: 407-415.