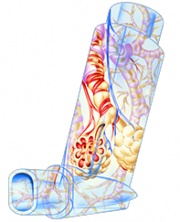 Stepping down asthma medication without worsening health outcomes
By Nicole MacKee
Higher-dose asthma medication can often be safely stepped down in primary care, according to UK research published recently in PLoS Medicine.
Researchers reported that the prescription of higher-­dose asthma medication – medium/higher-dose inhaled corticosteroids (ICS) or ICS plus add-on medication (long­-acting beta­-agonist [LABA], leukotriene receptor antagonist [LTRA], theophylline or long­-acting muscarinic antagonist [LAMA]) – had steadily increased in the UK from 49.8% in 2001 to 68.3% in 2017.
And, they reported, among patients who were first prescribed an ICS plus one add-on medication, 70% remained on the same regimen during a median follow up of more than six years.
The researchers evaluated a cohort of more than 125,000 primary care patients (median age 50 years), among whom almost 40,000 stepped down their medication. These patients either stopped using their LABA or another add-on medication, or had their ICS dose halved (mean daily dose or inhaler dose).
In each stepdown scenario, the researchers found that patients did not increase their risk of exacerbation in the subsequent year. The prescription of reliever medications was also unaffected.
The researchers reported that the strategy would reduce medication costs and may reduce long-term medication adverse effects.
Professor Amanda Barnard, Chair of the National Asthma Council's Guidelines Committee and a GP with a special see interest in respiratory medicine, welcomed the UK findings.
'This is a good primary care study and that's something that we don't have a lot of,' she said, noting that the findings were relevant to Australia, despite some differences in drug scheduling between the two countries.
Professor Barnard said Australia had also seen a trend towards the prescribing of higher-dose asthma medication. 
'Too many high-dose ICSs are prescribed and not enough low-dose,' she said. 'We also have too many patients just taking a short-acting beta agonist who should be on a low-dose ICS.' 
Professor Barnard said the key message to GPs from the study was to take every opportunity to review asthma medication dose, as well as medication adherence and inhaler technique.
'The aim is for people to be on the lowest dose of medications that controls their symptoms,' Professor Barnard said. 'So even if a patient has come in for blood pressure check, repeat contraceptive prescription or diabetes review, think about asking about their asthma control and consider whether [their medication] could be stepped down.'
The UK findings come as updates to the Australian Asthma Handbook were finalised, reflecting the PBS June listing of budesonide plus formoterol fixed-dose combination (Symbicort Turbuhaler 200/6 and Symbicort Rapihaler 100/3) on an as-needed basis for people aged 12 years and over with mild asthma who require anti-inflammatory reliever therapy.
PLoS Med 2020; 17: e1003145; https://doi.org/10.1371/journal.pmed.1003145.