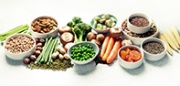 Studies reinforce benefits of increasing plant-based food intake
By Nicole MacKee
Swapping animal proteins for plant­-based proteins, such as bread, pasta, and legumes, is associated with a lower risk of death, according to one of three recent studies that reinforce the health benefits of increasing plant­-based food intake.
A prospective cohort study of 237,036 people, published in JAMA Internal Medicine, found that a higher intake of plant­-based protein was significantly associated with lower overall mortality – 12% for men and 14% for women per 10 g/1000 kcal intake increment in daily protein intake. The researchers reported that the inverse association held for cardiovascular disease and stroke mortality, and was independent of several risk factors.
They noted that primary dietary sources for plant protein (mean percentages of total plant protein intake) included bread, cereal and pasta (48.5%); nuts (4.5%); beans and legumes (8%); and other plant protein (41.7%).
The researchers reported that swapping 3% of energy from animal proteins with plant proteins was associated with a 10% lower risk of overall mortality and a reduced cardiovascular mortality risk (11% lower risk in men and 12% in women).
Also, the BMJ published a systemic review and meta­-analysis that found a higher intake of plant protein was associated with an 8% lower risk of all­-cause mortality and 12% lower risk of cardiovascular disease mortality. The study also found a dose–response association.
And in a third study, published in the Journal of Hypertension, UK researchers reviewed 41 clinical trials of seven diets and found that plant-based diets that contained limited amounts of animal products were associated with lower systolic and diastolic blood pressure.
Professor Clare Collins, Professor of Nutrition and Dietetics at the University of Newcastle, said the shift to home­-based cooking, prompted by COVID­-19 restrictions, provided a timely opportunity to encourage people to focus on healthier eating habits.
'It is a good time to be talking about the health benefits of some of the changes that people have made, almost by accident, because we have been trying to stay away from the supermarkets, and haven't been visiting pubs, clubs or takeaway outlets as often,' she said.
'Canned lentils, canned tomatoes and baked beans are all foods that last in the cupboard and can boost your intake of plant foods.'
Professor Collins said these studies also showed that people did not have to go to dietary extremes to reap the health benefits associated with a higher intake of plant foods.
'Every little bit helps, so you don't have to become a vege­tarian or vegan, and it has to be related to a person's health needs,' Professor Collins said. 'For people at risk of anaemia – elderly people or young women – the main message is to cut down on processed foods and have more of the basic five food groups as they still need to include small amounts of lean red meat to boost their iron intake.'
JAMA Intern Med 2020; doi:10.1001/jamainternmed.2020.2790.
BMJ 2020; 370: m2412; http://dx.doi.org/10.1136/bmj.m2412.
J Hypertens 2020; 38: 000–000; doi: 10.1097/HJH.0000000000002604.