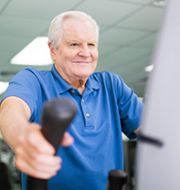 © THEPALMER/ISTOCKPHOTO.COM MODEL USED FOR ILLUSTRATIVE PURPOSES ONLY
Study finds exercise, not testosterone, improves men's artery health
By Rebecca Jenkins
Exercise is a superior option to testosterone for improving artery health in middle- to older-age men, Australian research finds.
The 12-week randomised placebo-controlled trial compared the effects of transdermal testosterone and exercise training, alone or in combination, on vascular function in 80 men aged 50 to 70 years with central adiposity (waists measuring 95cm or more) and low to normal serum testosterone (6 to 14nmol/L).
Supervised exercise training improved vascular endothelial function by 28%, as assessed by flow-mediated dilation, University of Western Australia researchers reported in Hypertension.
Transdermal testosterone alone had no impact on flow-mediated dilation, whereas testosterone and exercise together improved artery function by 19%.
Neither exercise nor testosterone, alone or in combination, had an effect on endothelium-independent glyceryl trinitrate responses, suggesting the positive effect of the exercise program was endothelium-mediated.
Study coauthor Professor Bu B. Yeap, of the University of Western Australia's Medical School, Perth, told Medicine Today the result was surprising.
'The hypothesis was that men receiving both testosterone treatment and exercise training would have the largest improvement in vascular function. Instead, while exercise training improved vascular function, testosterone treatment did not, nor did testosterone enhance the effect of exercise training,' he said.
'The main message is: if men want to improve the health of their arteries, exercise (provided there are no medical concerns or physical limitations) would be the way to do it.'
There was a concerning growing global market for testosterone in the absence of new clinical indications, explained Professor Yeap, who is also President of the Endocrine Society of Australia.
'Some men who are older, or overweight or unwell due to other causes, may have lower than expected testosterone levels, but currently there is insufficient evidence to justify testosterone treatment in those men, if no pituitary or testicular disorders are present,' he said.
'We should be making careful clinical assessments of men presenting with symptoms and signs, to identify those with pituitary or testicular disorders causing androgen deficiency, as those men are likely to benefit from treatment.'
It was possible that a longer duration of testosterone treatment or a different formulation may have provided a different result in this study, but for now, testosterone treatment does not appear to improve vascular function, at least over a 12-week period, he concluded.
'Together with other researchers, I am planning larger and longer studies to look at the effects of testosterone on other aspects of cardiovascular health.'
Hypertension 2021: 77; 1095-1105.