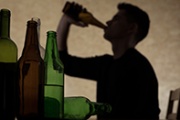 © PHOTOGRAPHEE.EU/ STOCK.ADOBE.COM
Study finds range of CV risk factors in young adults who binge drink
By Melanie Hinze
Binge drinking in young adults is associated with an increased risk of CV risk factors, research published in the Journal of the American Heart Association has found.
The study examined blood pressure (BP) and lipid and glucose levels in 4710 adults aged 18 to 45 years participating in the US National Health and Nutrition Examination Surveys of 2011-12 and 2013-14. Participants were divided into those who binge drank more than 12 times in the past year, those who binge drank one to 12 times in the past year and those who didn't binge drink.
After controlling for diet and physical activity, researchers found that men who binge drank more than 12 times or one to 12 times in the past year had higher systolic BP than men who didn't binge drink (121.8 mmHg and 119.0 mmHg vs 117.5 mmHg, respectively). There were no effects on diastolic BP. Total cholesterol was also higher in men who binge drank more than 12 times (215.5 mg/dL [5.57 mmol/L]) and one to 12 times (217.9 mg/dL [5.65 mmol/L]) than men who did not binge drink (207.8 mg/dL [5.37 mmol/L]).
Higher HDL-cholesterol levels were reported in both male and female binge drinkers, and female binge drinkers had higher blood sugar levels than nonbinge-drinking women.
Heart Foundation Chief Medical Adviser, cardiologist Professor Garry Jennings said extreme binge drinking had long been associated with acute stroke and was thought to be associated with large swings in blood pressure.
'I have observed in my clinical practice that wild swings in blood pressure from visit to visit are often seen in people who binge drink,' he said.
'This study, however, examines long-term associations between bouts of heavy drinking and blood pressure in a large US population survey.'
He said it was not possible to assess causality in cross-sectional studies even when many potential confounding factors were controlled for. For example, did binge drinking increase systolic BP in men or was it a marker of a less healthy lifestyle?
Nevertheless, 'the message for general practice is to always enquire about alcohol intake in people assessed for hypertension and advise moderation in those who exceed the guidelines,' he stated.
J Am Heart Assoc 2018; 7: e008733; doi: 10.1161/JAHA.118.008733.