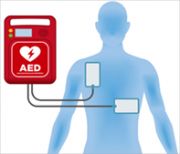 © METAMORWORKS/SHUTTERSTOCK
Study highlights importance of automated external defibrillators in GP clinics
By Dr Emily Lathlean MB BS, FRACGP
A 20-year retrospective analysis of Victorian Ambulance Cardiac Arrest Registry data published in the Medical Journal of Australia has found greater survival following paramedic-witnessed cardiac arrests or GP clinic arrests where defibrillation was provided by clinic staff than for arrests at GP clinics where arriving paramedics provided defibrillation.
Researchers evaluated the outcomes of 6363 cases of cardiac arrest, 216 in GP clinics and 6147 witnessed by paramedics, during the period 1 January 2000 to 31 December 2019. The primary outcome assessed was survival to hospital discharge. Secondary outcomes were factors associated with survival and changes over 20 years in the baseline characteristics and survival of people who had cardiac arrests in GP clinics.
The study found 58.3% of the patients who presented to GP clinics had an initial shockable rhythm, compared with 31.4% of paramedic-witnessed cases. However, the proportion of GP clinic cases in which defibrillation was provided in the clinic was only 5% in 2000 to 2003 and 33% in 2016 to 2019, associated with survival rates of 19% and 40%, respectively. In paramedic-witnessed cases, 63.3% of patients with an initial shockable rhythm survived to hospital discharge, compared with 45% of GP clinic cases.
The odds of survival for patients with initial shockable rhythms were poorer in GP clinic arrests in which arriving paramedics provided defibrillation.
Suggested contributing factors for the higher survival rate following paramedic-witnessed cardiac arrests included greater experience and training of paramedics in managing cardiac arrest, prolonged duration of symptoms in some patients seeking help at a GP clinic rather than calling an ambulance and initial care sometimes being provided by non-GP staff in the GP setting.
'The main finding from our research is that if people are experiencing signs and symptoms of a heart attack they should call 000, rather than going to their GP, because there is triple the survival rate if their cardiac arrest is witnessed by a paramedic,' said Mr Brian Haskins, lead author of the study and paramedic lecturer and PhD scholar at Monash University, Melbourne.
The researchers called for regular automatic external defibrillator (AED) and cardiopulmonary resuscitation training for all GP clinic staff and for AEDs to be standard equipment in GP clinics, noting this is not currently a requirement for accreditation with the Royal Australian College of General Practitioners.
'For those patients who do go to the GP and have a cardiac arrest in their clinic, survival is doubled if they have an onsite defibrillator to provide early defibrillation,' Mr Haskins said.
Med J Aust 2021; doi:10.5694/mja2.51139.