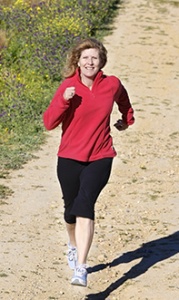 Study reinforces that some exercise is better than none
By Jane Lewis
A large UK cohort study has found that people who compress their exercise into one or two days of the week ('weekend warriors') have a significantly lower risk for all-cause mortality, as well as mortality from cardiovascular disease (CVD) and cancer, compared with inactive people.
According to the study's authors, although the WHO recommends a certain amount of exercise per week (≥150 minutes of moderate-intensity, or ≥75 minutes of vigorous-intensity activity), the frequency of activity is not specified and little is known about the benefits of the weekend warrior physical activity pattern.
Professor Neville Owen, Head of the Behavioural Epidemiology Laboratory at The Baker IDI Heart and Diabetes Institute, and Distinguished Professor at Swinburne University of Technology, Melbourne, described the findings as 'new and important,' saying they 'reinforce the public health message that any physical activity is better than none.'
The study, published online in JAMA Internal Medicine, was based on data from 63,591 respondents aged 40 years or above (mean age 58.6 years) to health surveys conducted in England and Scotland. The respondents were grouped according to their activity patterns: inactive (no moderate- or vigorous-intensity activities), insufficiently active (<WHO-recommendations), weekend warrior (≥WHO-recommendations, from one or two sessions) and regularly active (≥WHO-recommendations, from three or more sessions).
During 561,159 person-years of follow up, there were 8802 deaths from all causes, 2780 deaths from CVD and 2526 from cancer. Compared with inactive participants, all-cause mortality risk was 30% lower for weekend warriors, 31% lower for the insufficiently active and 35% lower for the regularly active. Weekend warriors also had lower CVD and cancer mortality risks (40% and 18%, respectively), compared with inactive participants.
'Weekend warrior and other leisure time physical activity patterns characterized by 1 or 2 sessions per week may be sufficient to reduce all-cause, CVD, and cancer mortality risks regardless of adherence to prevailing physical activity guidelines,' the authors concluded.
The authors of an invited commentary said that 'in response to the question of whether activity can wait for the weekend, the short answer is perhaps,' although 'further mortality benefit was observed with more frequent activity.'
'These are important new findings, but they are actually about a small part of the bigger population-health picture,' Professor Owen told Medicine Today. 'Other evidence on the adverse health consequences of prolonged unbroken periods of sitting time point to a bigger-ticket issue in chronic disease risk. If people can get up regularly, move around and give their bodies frequent signals to switch on energy systems, this may be at least as important, or possibly even more important, for good health and longevity.' 
JAMA Intern Med 2016; doi: 10.1001/jamainternmed.2016.8014.
JAMA Intern Med 2016; doi: 10.1001/jamainternmed.2016.8050.
Picture credit: © Design Pics Inc/Depositphotos. Model used for illustrative purposes only.