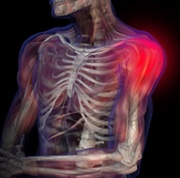 Subacromial shoulder pain: study finds limited benefits from surgery
By Bianca Nogrady 
Surgical treatment of subacromial shoulder pain has been found to offer little clinical benefit compared with no treatment or placebo surgery. 
In a multicentre, parallel-group trial, researchers randomised 313 patients with persistent (three months or longer) subacromial pain and who had intact rotator cuff tendons to receive either arthroscopic subacromial decompression, investigational arthroscopy alone (placebo surgery) or no treatment. 
Six months after randomisation, researchers saw no clinically significant difference – measured by the Oxford Shoulder Score – between the real or placebo surgery, or between surgery and no treatment among the 274 patients who had completed their assigned treatment. 
According to the paper published in The Lancet, the mean Oxford Shoulder Score at six months after randomisation was 32.7 points in the decompression group, 34.2 points in the arthroscopy group, and 29.4 points in the no-treatment group – differences that were not clinically important. 
At one year, all groups showed improvement, both in the intention-to-treat and in the per-protocol analyses, with the differences minor between all three groups.
The same was observed for secondary outcomes, which included scores for shoulder function and range of motion, measures of pain and neuropathic pain, and quality of life. 
Commenting on the findings, orthopaedic surgeon Professor Allan Wang confirmed that most patients with subacromial pain would get better within six to 12 months without surgical treatment. 
He noted that nearly one-quarter of the surgical group had not received their allocated treatment by six months after randomisation, indicating they might have improved while on the waiting list for surgery. 
'Performing arthroscopic subacromial decompression for patients with only a short history of subacromial impingement pain may be unnecessary,' said Professor Wang, President of the Shoulder Elbow Society of Australia – a subspecialty of the Australian Orthopaedic Association. However, he also stressed that many of the surgeons in the study only performed a few procedures, and there were no data available on the quality of surgery. 
Professor Wang also told Medicine Today that the study did not adequately consider patients with chronic and severe subacromial symptoms, a group that might benefit from surgical treatment. 
'The Lancet study didn't look at a patient group who have protracted symptoms and who have had no success with a lengthy nonoperative treatment program, and doing surgery on this group to see if they have got better.' 
Professor Wang said future studies in the Australian environment would further define the role of arthroscopic surgery for treating chronic impingement syndrome.
Lancet 2017; http://dx.doi.org/10.1016/S0140-6736(17)32457-1.
Picture credit: © Cameraman/stock.adobe.com