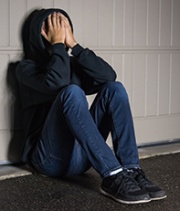 © MOOREMEDIA/SHUTTERSTOCK. MODEL USED FOR ILLUSTRATIVE PURPOSES ONLY
Suicide risk highest in the month after hospitalisation for self-harm
By Melanie Hinze
Patients attending hospital for self-­harm are at increased risk of suicide immediately follow­ ing hospital admission, according to UK research published in The Lancet Psychiatry.
Researchers examined 90,614 hospital presentations of nonfatal self harm by 49,783 individuals between 1 January 2000 and 31 December 2013, with follow up until 31 December, 2015.
The incidence of suicide was highest in the year following discharge from hospital, where it rose to more than 50 times that of the general population of England. It was also particularly elevated in the first month following discharge.
Men were three times more likely to die by suicide after self­ harm than women, whereas age was positively associated with suicide risk for both genders, with a 3% increase in risk for every one­-year increase in age at hospital presentation. The highest increase in 12-­month suicide rates, relative to the general population, occurred in those aged at least 55 years at study entry.
The authors found that presentations involving both self-­injury and self-poisoning were associated with a higher suicide risk than presentations after self­-poisoning alone. Self-­injury was also more strongly associated with suicide than self-­poisoning. Similarly, attempted hanging or asphyxiation and traffic­-related acts of self­ injury were linked with greater risk of suicide than self­-poisoning.
Patients living in the least disadvantaged areas were also more likely to die by suicide than those living in the most disadvantaged areas, contrary to previous research.
Dr Michelle Tye, NHMRC Senior Research Fellow at the Black Dog Institute, Sydney, and Deputy Director of Research for LifeSpan, said the study provided robust evidence that prior self­-harm was a strong risk for suicide death.
'One implication of the findings is that there is an opportunity for prevention via improved screening and detection of self­harm in patients in general practices,' she said.
Although approximately 88% of Australians presented to GPs each year, Dr Tye said as few as 19% of individuals who died by suicide disclosed suicidal thoughts to their GP before their death.
'Improving active screening at GPs may be an opportunity for early identification, particularly for the risk profile identified in The Lancet Psychiatry study (male, older age, method of self-­harm, socioeconomic circumstances), who are least likely to disclose suicidality,' Dr Tye told Medicine Today.
'Ideally, postdischarge, there would also be a communication system in place between GPs and mental health clinicians to provide monitoring and clinical support during the highest risk periods,' she added.
Lancet Psych 2019; https://doi.org/10.1016/S2215-0366(19)30402-X.