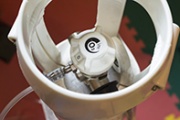 Supplemental oxygen: no mortality benefit in suspected acute MI
By Nicole MacKee
Australian experts have welcomed the findings of a 'seminal' trial confirming that oxygen supplementation does not reduce mortality in patients with suspected acute myocardial infarction (AMI) and normal oxygen levels.
Findings from the Determi­nation of the Role of Oxygen in Suspected Acute Myocardial Infarction (DETO2X­-AMI) randomised controlled trial were presented at the recent European Society of Cardiology Congress and published in The New England Journal of Medicine.
The Swedish trial randomised 6629 patients with suspected AMI and normal oxygen saturation (90% or higher) to receive either supplemental oxygen (6L/min for six to 12 hours) or ambient air.
One year after randomisation, all­-cause mortality was 5.0% among patients who received supplemental oxygen and 5.1% in patients in the ambient­-air group. Rehospitalisation with MI occurred in 3.8% of patients assigned to oxygen supplemen­tation and 3.3% in those receiving ambient air.
Professor Garry Jennings, the National Heart Foundation of Australia's Chief Medical Advisor, said the findings supported a 2016 change to the Australian Guidelines for the Management of Acute Coronary Syndromes recommending that routine oxygen supplementation not be used in patients with suspected AMI when their oxygen saturation levels were above 93%. Oxygen is still recommended for patients with oxygen saturation below this level.
The guideline was changed after the 2015 Australian Air Versus Oxygen In Myocardial Infarction (AVOID) trial found that oxygen supplementation in these patients was not beneficial, and may cause harm.
'Practice has changed con­siderably in Australia in recent years driven by the guideline changes and oxygen is generally not given unless there is clear evidence of hypoxaemia,' Professor Jennings told Medicine Today. 'The message is not to use oxygen therapy unless it is clearly needed.'
Lead author of the AVOID trial Dr Dion Stub, interventional cardiologist at the Alfred Hospital, Western Health Cardiology and Monash University, Melbourne, said the findings from this 'seminal' Swedish trial, together with the AVOID study findings and updated Australian guidelines, would encourage continued changes in practice.
'[Clinicians'] behaviour has changed, but we're probably not quite there. [Oxygen supplementation is] such a reflex across all areas of medicine, whether it be paramedics, St John Ambulance first­-aiders, nursing staff, emergency department staff, or cardiac [catheterisation] lab staff,' Dr Stub said, adding that the practice had been a fundamental tenet of medicine for more than 100 years. 'The Australian guidelines and this latest trial go a long way in confirming that we really shouldn't be [using oxygen] in people with normal oxygen levels.' 
Although the DETO2X­-AMI trial did not show any harms associated with oxygen supple­ mentation, Dr Stub said the AVOID trial and physiological studies had suggested that too much oxygen may also increase myocardial damage. 
He said subtle differences in trial design and patient population may explain the different results, and he looked forward to seeing future substudies of the DETO2X­-AMI data.
N Engl J Med 2017; doi: 10.1056/NEJMoa1706222.
Picture credit: © Matteo Girelli/stock.adobe.com