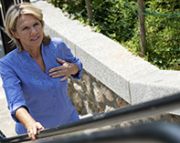 © IMAGE POINT FR/SHUTTERSTOCK; MODEL USED FOR ILLUSTRATIVE PURPOSES ONLY
Survey finds breathlessness prevalent in Australia and associated with poorer quality of life
By Dr Emily Lathlean MB BS, FRACGP
The National Breathlessness Survey has found clinically important breathlessness is common among Australian adults and associated with a substantial burden of ill health, both in people with and without a diagnosed respiratory or heart condition.
The cross­-sectional, web­ based survey of a nationally representative population of 10,072 Australian adults conducted in October 2019 found 9.5% of respondents reported clinically important breathlessness.
Over half of those with clini­cally important breathlessness did not report a current respiratory or heart condition diagnosis, indicating the possi­bility of undiagnosed res­piratory, heart or upper airway conditions or reduced fitness.
Professor Helen Reddel, respiratory physician and Research Leader at the Woolcock Institute of Medical Research, The University of Sydney, and an author of the study, published in Respirology, said 'Many people with breathlessness assume it's just because they're unfit or overweight, and so they may not talk about it with their GP. We need to look out for it in primary care, and then undertake appropriate investigations to find the cause.'
Professor Reddel stressed the importance of starting with a good clinical history, rather than going straight to tests such as spirometry or a chest x-ray.
'For chronic breathlessness, my suggestion is to first ask about features that indicate whether this is likely to be cardiac disease or asthma or COPD or laryngeal problems or reduced fitness. Ask about duration, frequency of symptoms, triggers, things that make it better, smoking history, family history of breathlessness or emphysema, and associated symptoms, such as ankle swelling or symptoms of reflux.'
The study also found signifi­cant burden of breathlessness. Among those with clinically important breathlessness, 49.1% rated their general health as fair or poor and 44.2% had at least moderate depression or anxiety symptoms.
'Feeling short of breath makes you feel anxious ... and anxiety itself can make you feel breathless,' Professor Reddel said. 'Some of the differential diagnosis ... can have symptoms that are rather similar to anxiety, so it's difficult to tease out. Our survey showed that the more breathless a person was, the more likely they were to have anxiety, but you can't disen­tangle cause and effect there.'
Professor Reddel also advo­cated for the need to consider the patient holistically.
'For people with moderate or severe breathlessness, for example due to long­-term lung disease or heart failure, we need to not just manage the medical condition, but also think about mental health support, social support and resources at home.'
Respirology 2021; 1-8; doi: 10.1111/resp.14070.