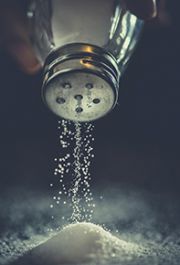 Switch to salt substitutes to help lower CVD risks
By Nicole MacKee
Advising patients to swap table salt for salt substitute is a simple measure to help them to lower their risk of stroke and other cardiovascular events, a leading Australian researcher says.
Professor Bruce Neal, Executive Director of The George Institute for Global Health, Sydney, was speaking after the release of his research group's landmark study on salt substitution.
The open­-label, cluster­-randomised trial, published recently in The New England Journal of Medicine, found that the group using salt substitute (75% sodium chloride and 25% potassium) had a 14% lower risk of stroke (29 events versus 34 events per 1000 person­years), a 13% lower risk of having a major cardiovascular event (49 versus 56 event per 1000 person­-years), and a 12% lower chance of premature death (39 versus 45 events per 1000 person­-years).
They also found that the rate of hyperkalaemia – a potential risk of higher potassium intake among people with serious kidney disease or those taking certain medicines – was not significantly increased by the dietary change.
The researchers followed more than 20,000 people living in 600 villages in rural China. The mean age of participants was 65 years, and 73% had a history of stroke and 88% a history of hypertension.
Professor Neal said the research team chose rural China because at least half of this population's dietary sodium intake was from added salt in cooking, seasoning and preserving foods. In Australia, however, processed foods account for most sodium intake, with added salt only for about 15 to 20% intake.
Although the Australian population would not see the same degree of protection against stroke, heart attack and premature death with salt substitution as shown in the study, Professor Neal said there were still benefits to making this switch.
'Many people find it almost impossible to eat less salt because it requires a significant dietary change,' Professor Neal said. 'This isn't going to fix all of the salt in peoples' diets, but clinicians can say to their patients, "go and buy salt substitute, it's on the super­ market shelves (Lite Salt), it tastes pretty much the same as regular salt", and the patients will get a benefit from it, and they will be able to adhere to it.'
Professor Neal said 92% of participants in the salt substitute arm of the study continued to use the product at the study completion.
He said he hoped the processed food industry, the salt manufacturing industry and the Federal Government would be interested in discussing the opportunity to translate these findings into developing healthier processed foods.
N Engl J Med 2021; doi:10.1056/NEJMoa2105675.