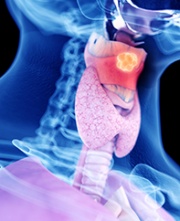 © SEBASTIAN KAULITZKI/ STOCK.ADOBE.COM
Symptom combinations predictive of laryngeal cancer examined
By Melanie Hinze
New research suggests a range of seemingly low­-risk symptom combinations, particularly when combined with a persistent sore throat, could be predictive of laryngeal cancer in primary care.
Writing in the British Journal of General Practice, the researchers said their findings expanded on current guidance to consider urgent referral for any patient presenting in primary care with persistent, unexplained hoarseness or unexplained neck lump.
Their case­-control study involved 806 patients with laryngeal cancer and 3559 age­, sex­ and practice­-matched controls from the UK's Clinical Practice Research Datalink – a resource containing anony­mised patient data from more than 600 UK general practices.
The study found that although hoarseness was the symptom with the highest individual risk of laryngeal cancer (with a positive predictive value of 2.7%), other symp­tom combinations showed greater risks. For example, hoarseness with sore throat (12%) and hoarseness with raised inflammatory markers (15%) were associated with the highest risks.
When hoarseness was combined with symptoms such as dysphagia, mouth symptoms, insomnia, otalgia or dyspnoea, the risk was more than 3%. Sore throat combined with dysphagia, dyspnoea or otalgia had risk estimates of more than 5%.
Professor Jon Emery, Medical Advisor to the Cancer Council Australia and Herman Professor of Primary Care Cancer Research at the University of Melbourne and Western Health, said, 'Laryngeal cancer can be challenging to diagnose early in primary care; however, this research presents new evidence about important features of laryngeal cancer as it presents in this setting.'
'This research could guide the initial investigation of hoarseness as well as help GPs to recognise patients with combinations of clinical features who require more urgent assessment by an ENT specialist,' said Professor Emery, who is also Director of the Cancer Australia Primary Care Collaborative Cancer Clinical Trials Group (PC4).
The study authors noted that diagnostic delay was one of the main predictors of poor prognosis in laryngeal cancer.
'These results provide new evidence that GPs should con­sider relevant when ascertaining whether to refer a patient for suspected laryngeal cancer,' they wrote.
Br J Gen Pract 2019; doi: https://doi.org/10.3399/bjgp19X700997.