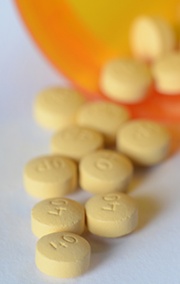 © SCIENCE SOURCE/PHOTO RESEARCHERS/DIOMEDIA.COM
Tamper-resistant oxycodone sees users switch to other opioids
By Bianca Nogrady
The introduction of tamper-resistant, controlled-released oxycodone in Australia has seen an increase in younger users switching to morphine and other opioid formulations, new research suggests.
A retrospective study of dispensing data for 36,528 people showed a fourfold increase in people aged under 45 years who had switched to morphine after the introduction of tamper-resistant oxycodone in April 2014.
According to a paper published in the Canadian Medical Association Journal, men younger than 65 years who were receiving more prescriptions for controlled-release oxycodone and fewer nonopioid medications were more likely to switch to alternative opioid medications after the introduction of the tamper-resistant formulation, rather than stop opioid use. Similarly, there was an association between higher-strength formulation use and switching.
Overall, in people aged under 65 years, the dispensing of both the 10 to 30 mg and 40 to 80 mg strengths of controlled- release oxycodone decreased gradually after the reformulation, but there were no significant changes in people aged 65 years and older.
Analysis of calls to the NSW Poisons Information Centre also showed a 31% increase in the number of calls related to orally administered oxycodone, but no change in calls about injected oxycodone, morphine or other opioids.
Dr Andrea Schaffer, one of the researchers and an epidemiologist from the Centre for Big Data Research in Health at UNSW Sydney, said the results showed that the introduction of tamper-resistant formulations had not necessarily reduced opioid misuse because users – especially younger people taking higher doses – seemed to be switching instead of stopping.
'It is concerning that the opioid they were switching to is not tamper resistant, and there is evidence that morphine is a commonly misused opioid,' Dr Schaffer told Medicine Today. 'It tells us that people who are at greatest risk of misuse of opioids may be seeking out non-tamper-resistant options.'
Dr Schaffer suggested that people at higher risk – those under 45 years who were on higher-dose formulations – might warrant increased monitoring for misuse.
CMAJ 2018; 190: E355-E362.