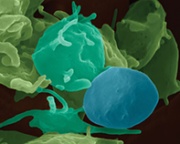 Thrombocytosis: a potential early marker for cancer
By Nicole MacKee
Thrombocytosis is a potentially important early marker for cancer that may be more predictive than many red-flag symptoms in general practice, says an Australian expert.
Professor Jon Emery, Herman Professor of Primary Care Cancer Research at the University of Melbourne and Western Health in Melbourne, was commenting on the findings of a large UK study showing that thrombocytosis had a positive predictive value for cancer of 11.6% in men and 6.2% in women, which he described as 'quite surprising'.
The prospective cohort study, published in the British Journal of General Practice, examined the one-year cancer incidence in 40,000 patients aged 40 years and older with thrombocytosis (platelet count >400 x 109/L) and 10,000 matched patients with a normal platelet count. In patients with a repeat raised platelet count taken within six months of the first, the one-year cancer incidence was 18.1% in men and 10.1% in women.
The study authors noted the importance of the study's setting being in primary care – where the initial suspicion of cancer often occurs.
Professor Emery said these results suggested that thrombocytosis may be more predictive than most red-flag symptoms seen in general practice. For example, he noted that when a woman presents with a breast lump in general practice there is only about an 8% chance of her having breast cancer.
In the study, lung and colorectal cancer were the most common cancer diagnoses in patients with thrombocytosis, and one-third of patients with either of these diagnoses had no symptoms suggesting malignancy, the UK researchers reported.
Professor Emery said the findings suggested that thrombocytosis may be a marker for early disease – even before the development of symptoms.
'Lung cancer and colorectal cancers are [often] diagnosed at either stage 3 or stage 4 in Australia, which is partly due to when patients present, but also to delays in referral and investigation,' he told Medicine Today. 'This is potentially an important finding for two cancers where, if you reduced the time to diagnosis by 50 to 60 days, that may potentially contribute to improved outcomes.'
Professor Emery said the most challenging issue in general practice would be deciding the most appropriate diagnostic workup for patients with thrombocytosis, particularly in patients who were asymptomatic.
'At the very least, you would probably do a chest x-ray and maybe a faecal occult blood test as your first-line investigations [if the patient is] genuinely asymptomatic and you don't know which cancers to be thinking about,' he said.
Br J Gen Pract 2017; doi: https://doi.org/10.3399/bjgp17X691109.
Picture credit: © Dennis Kunkel Microscopy/SPL. Platelets, coloured scanning electron micrograph (SEM).