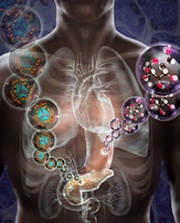 © SCIENCE SOURCE/JIM DOWDALLS/ DIOMEDIA
Type 2 diabetes in Australia: mortality remains high, cardiovascular events decline
By Melanie Hinze
New research suggests that although cardiovascular event rates among Australians with type 2 diabetes have declined compared with those without diabetes since the 1990s, the gap in all-cause mortality remains.
In a longitudinal observational study, published in the Journal of Clinical Endocrinology and Metabolism, resear­chers compared cardiovascular and mortality outcomes in 13,995 community­-based Australians with or without diabetes (mean age 64.8 years, with an almost equal sex distribution).
They matched participants with type 2 diabetes from phases I and II of the Fremantle Diabetes Study, conducted 15 years apart, with people without diabetes in a one to four ratio. Recruitment for phase I of the Fremantle Diabetes Study took place from 1993 to 1996, with follow up to 2013; recruitment for phase II took place from 2008 to 2011, with follow up to 2016.
The researchers found that in participants with diabetes, five­-year incidence rates were significantly lower in phase II than in phase I for: all­-cause mortality, cardiovascular mortality, fatal and nonfatal myocardial infarction (MI), fatal and nonfatal stroke, hospitalisation for heart failure and hospitalisation for lower extremity amputation.
Respective five­-year inci­dence rates were also lower in participants without diabetes, but the reductions were not as great as in those with type 2 diabetes.
Incidence rate differences (IRDs) for MI, stroke, heart failure, lower extre­mity amputation and cardiovascular death indicated that the gap in absolute event rates between people with and without type 2 diabetes narrowed by more than 50% between the two phases. However, there was no change in IRD for all-cause mortality.
'These findings show that recent efforts to improve cardiovascular disease outcomes in type 2 diabetes have been successful,' senior author, Professor Timothy Davis, told Medicine Today.
'Although life expectancy is lengthening in people with and without diabetes, the gap has not narrowed, suggesting that causes of death other than cardiovascular disease are becoming more prominent in type 2 diabetes,' said Professor Davis, who is Professor of Medicine at the University of Western Australia and Consultant Physician and Endocrinologist at Fremantle Hospital.
He added that other condi­tions may be associated with type 2 diabetes, including cancer and dementia, and that these conditions may become significant in later life.
J Clin Endocrinol Metab 2020; https://doi.org/10.1210/clinem/dgaa215.