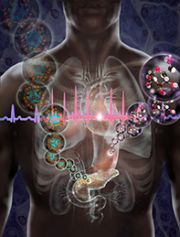 © SCIENCE SOURCE/JIM DOWDALLS/ DIOMEDIA
Urgent action needed to tackle diabetes-related complication rates in young adults
By Nicole MacKee
'Alarming' rates of diabetes-related complications found among young US adults who had been diagnosed with type-2 diabetes in their early teens highlights the need for urgent action to tackle this 'aggressive and progressive' illness, says a leading Australian expert.
Professor Liz Davis, Head of the Diabetes Department at Perth Children's Hospital, said the US findings, recently reported in The New England Journal of Medicine, were a 'stark reminder that just because your diabetes starts in youth, you are not protected from the long-term health complications'.
The follow-up study to the Treatment Options for Type 2 Diabetes in Adolescents and Youth (TODAY) study – the TODAY2 study – found that the risk of complications increased steadily over time after diagnosis (at mean age 13 years) and affected most participants by the time of young adulthood (around 26 years of age).
Among the 500 participants, 60% had developed at least one diabetes-related complication by their mid-20s, and 28% had at least two complications.
The researchers reported a cumulative incidence of hypertension (67.5%), dyslipidaemia (51.6%), diabetic kidney disease (54.8%), nerve disease (32.4%) and retinal disease (51%).
The study, which included high participation rates from Hispanic (around 38%) and non-Hispanic Black people (around 35%), also showed these groups to be at most risk of complications.
Professor Davis, who is also co-lead of the Diabetes and Obesity Research team at Telethon Kids Institute, said early Australian data had suggested similar risks were emerging locally, with youth-onset diabetes proving to be 'aggressive and progressive'.
'The complications reported in this NEJM study are major health issues such as renal disease, eye disease and risk factors for heart disease,' Professor Davis told Medicine Today. 'There is little we can do to reverse these complications once they occur.'
She said Australia was seeing a 'worrying increase' in the rate of youth-onset type 2 diabetes, particularly among Aboriginal and Torres Strait Islander populations.
Professor Davis said several factors were contributing to the increased rates including modifiable factors (such as suboptimal diet and inadequate exercise) and non-modifiable factors (such as family history and in-utero exposure to gestational diabetes).
'Youth-onset type 2 diabetes needs our immediate attention, resources and commitment to make change. System change takes time, and it is never too early to start,' she said. 'There are so many questions we don't have the answers to, and we need to address these in partnership with the groups disproportionally affected by type 2 diabetes, such as Aboriginal and Torres Strait Islander people.
'This disease behaves differently to onset of type 2 diabetes in older age groups; it's aggressive and the serious consequences require those impacted to receive urgent support and expert health care.'
N Engl J Med 2021; 385: 416-426.