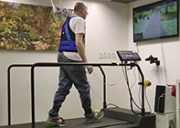 Virtual reality may help prevent falls in the elderly, study finds
By Jane Lewis
Combining virtual reality (VR) with treadmill training is more effective than treadmill training alone in preventing falls in older adults, new research published in The Lancet suggests.
While many interventions to reduce falls have been proposed, very few have used an integrated approach targeting both motor and cognitive function, claim the study authors. Theirs is the first study to investigate the effects of a treadmill-based intervention with and without a VR component on fall rates in older adults with a high risk of falls.
Professor Stephen Lord, senior principal research fellow at Neuroscience Research Australia, and author of a comment published with the study, told Medicine Today the findings have important implications for clinical practice.
'The reduction in falls observed in the combined virtual reality–treadmill training group is in line with the most effective fall preventions that have evaluated more traditional group- and home-based exercise interventions in older people, and well above the average reduction for exercise interventions reported in systematic reviews,' he said.
The study included 282 participants from five clinical centres across five countries who were aged 60 to 90 years, had varied motor and cognitive deficits, and reported two or more falls in the six months before the study. Participants were randomly assigned to treadmill training with VR, or treadmill training alone, with both groups training three times a week for six weeks, for 45 minutes at a time. The VR component involved using a motion-capture camera and a simulation projected onto a screen (Figure), and included real-life challenges such as obstacles, multiple pathways and distractions requiring adjustment of steps.
Results showed that both groups experienced a lower rate of falls in the six months after training, reducing from an overall rate of 11.34 falls in the six months before training to 6.00 falls in the VR plus treadmill group, and 8.27 falls in the treadmill-alone group. However, when the two groups were compared with each other, the falls incident rate was shown to be significantly lower in the treadmill training plus VR group (incident rate ratio [RR], 0.58). Participants with Parkinson's disease benefited the most from the combined intervention (RR, 0.45). No serious adverse events were observed and adherence was good.
According to Professor Lord, it is conceivable that VR treadmill training could be administered in community gyms and rehabilitation clinics. Although it remains to be established whether beneficial effects are retained beyond six months, VR treadmill training 'may provide a new, effective fall prevention option for older people, particularly those with Parkinson's disease,' he said.
Lancet 2016; http://dx.doi. org/10.1016/S0140-6736(16)31325-3.
Lancet 2016; http:// dx.doi.org/10.1016/S0140-6736(16)31347-2.
Figure. Treadmill training with VR system. Image courtesy of Dr Mirelman, Center for the Study of Movement, Cognition and Mobility, Neurological Institute, Tel Aviv, Israel.