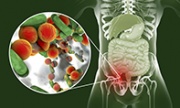 © KATERYNA_KON/STOCK.ADOBE.COM
When are antibiotics alone warranted for uncomplicated appendicitis?
By Nicole MacKee
Patients with acute uncom­pli­cated appendicitis who are treated with anti­biotics alone require close monitoring, a leading Australian surgeon has warned.
Professor Thomas Hugh, Chair of Surgery at The University of Sydney's Northern Clinical School, said not all patients with acute appendicitis required surgery, but identifying those for whom antibiotic therapy alone was appropriate was complex.
Professor Hugh's comments came as a follow-up study of the Finnish Appen­di­citis Acuta (APPAC) randomised trial was published in JAMA. The five-year obser­va­­tional follow up found patients who had been treated with anti­biotics alone for uncomplicated appendicitis had a cumulative recurrence rate of appendi­citis requiring appendicectomy of 27.3%, 34.0%, 35.2%, 37.1% and 39.1% at one, two, three, four and five years, respectively. 
The original trial, published in 2015, comprised 530 patients with uncompli­cated acute appendicitis, aged 18 to 60 years, randomised to either early open appendicectomy (273 patients) or antibiotic therapy alone (257 patients). 
Professor Hugh said there were certain situations where up-front appendicectomy was not warranted, such as in patients with phlegmonous appendicitis where there was a well-localised inflammatory mass around the appendix. 'We can treat those patients by draining the abscess and giving them broad-spectrum ­anti­­­bio­tics,' he said. 'Often, they completely settle
and there is ongoing argument about whether they even need a later interval appendicectomy.' 
Antibiotics alone may also be warranted for 'early' appendi­citis, he said, but most surgeons offered this only in well patients when there was no significant comorbidity such as diabetes or renal failure.
'This is the highly selected type of patients that were included in the APPAC trial,' said Professor Hugh, noting the study findings needed to be interpreted carefully before advocating antibiotics alone for all patients with acute appendicitis.
Professor Hugh told Medicine Today that in Australia appendicectomy was mostly performed laparoscopically, which was low risk and effective.
'Appendicectomy is the gold standard for patients with radiological and clinically confirmed appendicitis. ­How­ever, if a patient is not parti­cularly unwell and their abdominal signs are localised and mild, then antibiotics accompanied by close observa­tion by their GP or surgical team is a reasonable option,' Professor Hugh said, adding that patients could become sick very quickly if appen­dicitis recurred. 'The most worrying complication is appendiceal perforation, which can put the patient's life at risk.'
Patients treated with ­anti­biotics alone should also be warned of the risk of a recurrence of appendicitis, he said. '[A recurrence rate of] 39.1% is pretty high and many patients may prefer to get the appendix out at the original presentation.'
JAMA 2018; 320: 1259-1265.