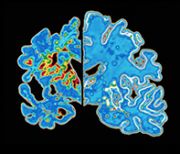 Younger age at diabetes diagnosis linked to increased risk of dementia at age 70
By Melanie Hinze
People diagnosed with diabetes at a younger age are more likely to have dementia at age 70 years, according to research published in JAMA.
The authors of the population­-based, prospective cohort study identified 10,095 participants from the ongoing UK Whitehall II study, who were aged 35 to 55 years in 1985 to 1988.
After a median of 31.7 years' follow up, 1710 cases of diabetes were recorded, along with 639 cases of dementia.
Dementia rates per 1000 person­-years were 8.9 for participants without diabetes at age 70 years, 10.0 for those diagnosed with diabetes up to five years prior, 13.0 for those diagnosed six to 10 years earlier and 18.3 in those diagnosed more than 10 years earlier.
In multivariable­-adjusted analyses, 70­-year-­olds who had received a diabetes diagnosis more than 10 years previously had more than double the risk of dementia compared with those without diabetes. This risk decreased as the time since diabetes diagnosis decreased. Those diagnosed six to 10 years earlier had almost a 50% increased risk, whereas those diagnosed up to five years earlier had around a 10% increased risk.
Professor Velandai Srikanth, Professor of Medicine at Peninsula Health and Monash University, Melbourne, added that this increase in risk was in fact higher in people who suffered a stroke during follow up, or in those who had stroke and heart complications.
'These findings emphasise the importance of good diabetes care in early adult life and midlife to prevent the risk of stroke and heart disease, and thus reduce the risk of future dementia,' he said.
He added that the flipside is that the relation between diabetes diagnosed at older age (closer to 70 years) was only weakly related to the risk of dementia.
'So, a slightly different approach to diabetes management may be required in those aged over 75 or 80 years with respect to protecting brain health,' he said. 'One may not need to be very aggressive in glucose control, but this will also depend on individual patient needs, such as heart, kidney or eye health, which should be carefully assessed,' he added.
JAMA 2021; 325: 1640-1649.