Image
Shutterstock
The Conversation
We could see thunderstorm asthma in south-eastern Australia this season – here's how to prepare
Victorians have been warned to prepare for the possibility of thunderstorm asthma again this season.
In temperate regions of Australia, thunderstorm asthma occurs when levels of grass pollen in the air are high, and when thunderstorm fronts pass over grass pollen sources. The weather conditions we see with a thunderstorm, including stormy winds and moisture, can break up pollen into particles small enough to enter the airways.
Thunderstorm asthma events have been noted all over the world, but the most severe ever reported was in Melbourne on November 21, 2016. In one night almost 3,500 people sought emergency care and ten people died.
While we don't have reason to expect we'll see another emergency at this scale, a longer than usual grass pollen season suggests a risk of thunderstorm asthma in southern Australia this year.
At the time of writing, on Monday October 30, west and south Gippsland was classified as being at high risk of thunderstorm asthma.
So who is at highest risk, and what's the best way to prepare?
A changing climate
In Australia, most thunderstorm asthma events have occurred during the peak grass pollen season from the end of October through to early December.
With climate change we're seeing significant increases in seasonal loads of airborne grass pollen. Pollen production depends partly on rainfall. Rain preceding the pollen season generally makes grasses grow more, driving up airborne grass pollen levels over the season.
Despite this El Niño year, when rainfall is typically lower, paradoxically, grass pollen levels in Canberra have been high early in the season.
---
---
With shifts over time in the distribution of the sorts of grasses that flower in cool season (temperate) and those that flower in warmer season (subtropical), grass pollen seasons may continue to change, potentially extending the timing and magnifying exposure.
However, these patterns aren't necessarily predictable, so we need long-term, year-round pollen monitoring to track ongoing changes in Australian grass pollen seasons.
Who is most at risk?
The main risk factor for thunderstorm asthma is hay fever, a condition usually due to grass pollen allergy. Hay fever is common, affecting as many as one in five people in Australia and causing symptoms including an itchy, runny and blocked nose and itchy eyes over the course of the pollen season.
Asthma is more common in people with hay fever and its symptoms include cough, wheeze, chest tightness and shortness of breath. Symptoms of thunderstorm asthma are the same as for other asthma attacks.
However, many people who develop thunderstorm asthma won't have had asthma before.
That said, people with asthma and hay fever are at higher risk of thunderstorm asthma, particularly if they're not taking asthma preventer medication regularly.
Our research indicates that people with hay fever with high levels of allergic antibodies (allergen-specific IgE) to ryegrass pollen, one of the most common temperate grasses in the southern regions of Australia, are particularly at risk of thunderstorm asthma.
---
---
How to prepare
People who are affected by hay fever, asthma or both should be particularly vigilant for thunderstorm asthma warnings.
Thunderstorm asthma alerts are available from the Victorian Department of Health or the Melbourne Pollen Count and Forecast, and you can register for alerts in the Wagga Wagga region in New South Wales. Local grass pollen information is also available for Brisbane, Perth, Canberra and Sydney.
If faced with a thunderstorm asthma warning, the first thing to do if you think you may be susceptible is to stay out of the weather. Remain indoors with the doors and windows closed, particularly during the windy period that precedes the actual storm. Don't use air conditioners that bring air in from outside.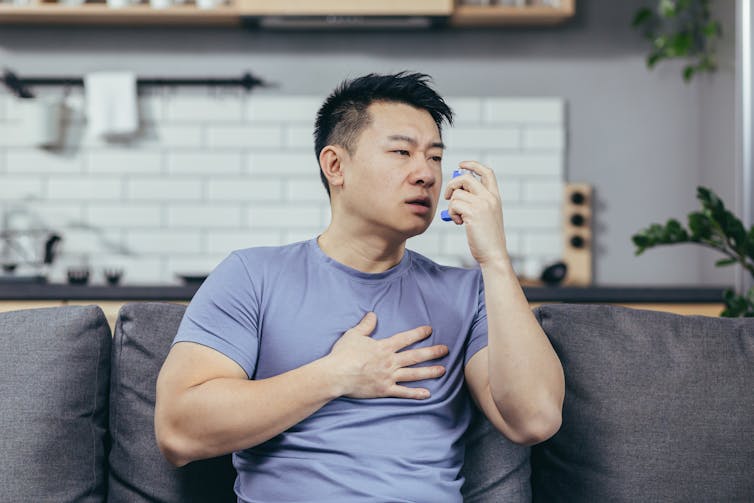 The second thing – and you don't need to wait for a warning to do this – is to ensure you have a plan to prevent and manage symptoms. This is something you can work out during a visit with your GP.
People with asthma should have a management plan which will usually include a prescribed preventer inhaler. It's important to take preventer medications regularly as prescribed (even if you're feeling well) and have reliever medication available at all times.
If you have hay fever, it's similarly important to keep it well-managed. Regular use of a nasal steroid spray can help control underlying allergy processes.
Having a plan and treatment on hand is especially important for people who suffer from both hay fever and asthma.
Knowing the steps of asthma first aid and how to manage an asthma attack is also important for patients and families. People experiencing severe symptoms such as difficulty breathing should call an ambulance or attend the nearest emergency department.
---
---
On a broader scale, we need sustained, standardised pollen monitoring, forecasting and reporting at daily and seasonal time scales across Australia to document and predict changes in airborne pollen loads.
Currently, only Victoria has a supported thunderstorm asthma warning system in place. But New South Wales has also experienced thunderstorm asthma events, and outside of temperate regions, grass pollen exposure is associated with increased asthma presentations. A thunderstorm asthma event can overwhelm health-care resources, supporting the need for widespread pollen monitoring and alerts.
Disclosure statement
---
Janet Davies receives funding from the Australian Research Council (DP210100347; LP190100216) and the Department of Health and Aging for the National Allergy Centre of Excellence, and has received grants in the last five years from the National Foundation of Medical Research Innovation, Abionic SA Switzerland, NHMRC (GNT1116107), with co-contributions from Asthma Australia and Stallergenes Greer Australia Pty Ltd, and in kind support from Australian Society for Clinical Immunology and Allergy, Asthma Australia, Bureau of Meteorology, Commonwealth Scientific and Industrial Research Organisation, Stallergenes Greer Australia Pty Ltd, and Federal Office of Meteorology and Climatology MeteoSwiss, ARC (DP190100376; DP170101630), and Queensland Chief Scientist Citizen Science Grant. QUT owns relevant patents US PTO 14/311944 and AU2008/316301 issued.
Jo Douglass has received funding from the MRFF to support research in Thunderstorm Asthma. She is employed as Director of Research at the Royal Melbourne Hospital and is Head, Department of Medicine at the University of Melbourne. In the past 5 years, she has received honoraria for educational presentations from Astra-Zeneca, GSK, Novartis & CSL. She has served on advisory boards for Sanofi-Aventis, Novartis, GSK, Astra-Zeneca, Immunosis and CSL. She has undertaken contracted or investigator-initiated research on behalf of: GSK, Novartis, Immunosis, AstraZeneca, Sanofi-Aventis, Grifols, CSL, BioCryst & Equilium. She has a personal shareholding in CSL in her superannuation. She is affiliated with the National Allergy Centre of Excellence.
Joy Lee has received funding from Centre of Research Excellence in Treatable traits, Sanofi and GSK for presenting at educational meetings and travel grants. She is affiliated with the National Allergy Centre of Excellence.
This article is republished from The Conversation under a Creative Commons license. Read the original article, published on 30 October 2023.
Opinions expressed in Something Borrowed are those of the original authors and do not necessarily reflect those of the Editors, the Editorial Board or the Publisher of Medicine Today.